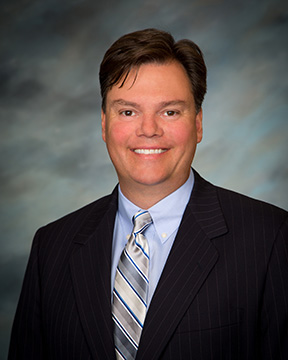 John Thompson, CFA  |  Mortgage Business Leader
About John
As the business leader for Thompson Kane & Company, John actively leads in outreach and mortgage business development opportunities and markets a full range of services to prospective clients. He establishes and maintains relationships with current and potential corporate partners in order to generate deal flow opportunities. John serves as an internal and external thought leader by participating in key mortgage business industry conferences, publishing thought pieces in web logs, being interviewed by journalists and trade journals, etc. to generate exposure and build brand.
John is currently CEO and Portfolio Manager with Vilas Capital Management, an investment fund with an emphasis on financial services companies. He manages and directs the Vilas Capital investment partnership through the acquisition of undervalued securities and the short sale of securities which are significantly overvalued.
In 2008 John founded Mortgage Assurance Corporation (MAC), focused on conforming mortgages with less than 20% down payment for sale to Fannie Mae and Freddie Mac. Serving as President and Chief Investment Officer of the mortgage business, John piloted MAC's executive team, recruiting a full dynamic executive management team (CEO, CRO, COO, CTO, etc.,). A few of John's accomplishments in this leadership role included:
Created the Mortgage Assurance Corp. business plan and accompanying financial model to raise between $500M and $1B of equity, presenting the proposal to private equity firms and Wall Street.
Established a relationship and engagement with Barclay's and William Blair, and gained national exposure and approval through regulators such as the Wisconsin Office of the Commissioner of Insurance (OCI) and the GSE's as well as ratings agencies.
Collaborated with IBM and other vendors to create efficient computer system.
Partnered with State Street to manage the portfolio custody and accounting.
Initiated client contact with Wells Fargo, Chase, SunTrust, etc.
Created the loss assumptions in the Business Plan with an actuarial firm.
Raised over $7M of seed capital to fund the initial operations.
John served as President, Portfolio Manager and CIO at Thompson Investment Management, Inc. in Madison, Wisconsin from 1993-2009. His contributions to Thompson Investment Management included:
Managed a large capitalization equity fund using a value strategy that resulted in substantial outperformance of the S&P 500 (by roughly 75% in the early 2000's).
Implemented the strategy for a fixed income portfolio of rotation between government securities during times of narrow credit spreads, into corporate bonds in times of wide credit spreads.
Recognized in the media for the #1 bond fund in the Morningstar short term bond category for the trailing 3, 5, and 10 years. Ranked in the top 2% of the category for the one year period as a result of strategy implementation for a fixed income portfolio.
Employed marketing strategies and directed the sales department in enforcing these strategies.
Cooperated with numerous institutional clients in the development and maintenance of relationships that led to inflows of over $2.5B of AUM.
Education
John attended the University of Chicago, receiving his M.B.A. in 1999 with a concentration in Economics and Finance. He earned his B.S. in Mechanical Engineering from the University of Wisconsin in 1990, earning Tau Beta Pi Honorary Society membership.
Skills
Chartered Financial Analyst (CFA) with over twenty years of experience as a successful financial entrepreneur.
Nationally recognized financial expert:
Wall Street Week – Louis Rukeyser
CNBC with Maria Bartiromo
The Wall Street Journal
The New York Times
Forbes Honor Role
Smart Money
Kiplinger's
Barron's
Money
Strategy
Value driven professional in raising capital for investment opportunities which minimize risk and maximize profits. Proven track record in new business development and closing investment banking transactions.
I'm here to answer any questions you might have about our products and services. Feel free to contact me using any of the following methods:
jthompson@thompsonkane.com
Why Choose Thompson Kane for Your Mortgage Business?
Trust our professionals to find the mortgage loan that best fits your needs. Less paperwork and more client interaction means you enter a stress-free zone from the application to the final decision. A Thompson Kane loan officer provides the personal courtesy you deserve and treats you with respect as our valued customer. Our loan officers understand and appreciate that you are making a pledge when you purchase or refinance a home or take out home equity. Our obligation is to help you qualify, apply and be accepted for the right mortgage loan. Take advantage of our convenient application for your loan now.
A Thompson Kane loan officer will make the process amazingly simple and will help you qualify!
Mortgage Rates and Loan Programs
Our mission: Close on time, 100% of the time. Complete satisfaction for our customers isn't possible without competitive APRs and the right loan that fits your specific needs. That's what it takes to be among the best mortgage businesses.
Call a loan officer for current interest rates and APRs or send us some information about your goals to start the loan origination process right here, right now.
After applying expect a response within 20 minutes of the call no matter the day or time. Just say you are inquiring about a loan. We'll do the rest!